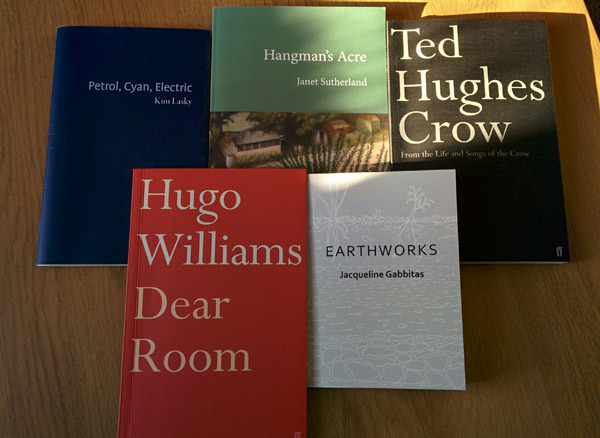 "The weather has been so good lately it's tempting to go out for a walk (or a pub lunch!) rather than read. But I'm enjoying the discipline – I find last thing at night and first thing in the morning are good times to read. This week I read through five more collections: Hangman's Acre, Janet Sutherland (Shearsman 2009), Crow, Ted Hughes (Faber 1972), Earthworks, Jacqueline Gabbitas (Stonewood Press, 2012), Hugo Williams, Dear Room (Faber, 2006), Kim Lasky, Petrol, Cyan, Electric (Smith/Doorstop 2013).
More lovely poetry of nature, from close (and slightly spooky) encounters with creatures both dead and alive in forests, on hills and in the garden ('Bird Buried') to pagan celebrations, and everywhere the feel and smell of clay, soil, peat, coal and all that lies buried in the earth. There's a touching memorial which appears to be to the poet's mother ('In principio') and a couple of poems in some kind of dialect – which I struggled a bit with as I couldn't 'hear' the voice, but no doubt would come to life in a reading. Many rich seams of meaning and experience to be uncovered in this short (and neatly packaged) collection. Favourite poem: 'Bird Buried'."
To read the full post go to: 'The Reading List'.
This extract from The Reading List by Robin Houghton was first published on July 12, 2015. To find out more about Robin go to: https://ukpoetgal.wordpress.com/about/