Back in summer…
…We launched a brand new podcast, Stereoplate. It brings excellent fiction and poetry to everyday listeners and readers (like us!). Hosted by me (Martin Parker) and poet Jacqueline Gabbitas, each episode kicks off with one simple question then sees where the subject will take us. We share new writing from around the world, chat with guests and try to shake off some of the mystery surrounding poetry and fiction. Episodes have looked at Shakespeare, the Republic of Letters and how to make metal movable type – a wonderful mixed bag!
Put the kettle on!
To help support Stereoplate, we also launched a Ko-fi page at https://ko-fi.com/stereoplate so that people can buy us a coffee for just £3. And now with our partners Brittle Star & WinstoneSmith we're offering a prize draw to donors for a chance to win a limited edition organic cotton t-shirt.
To be entered in the competition, buy us a coffee (only £3) from now until we reach our goal of £120 and we'll chuck your names into Jacqueline's lovely hat and draw out a winner!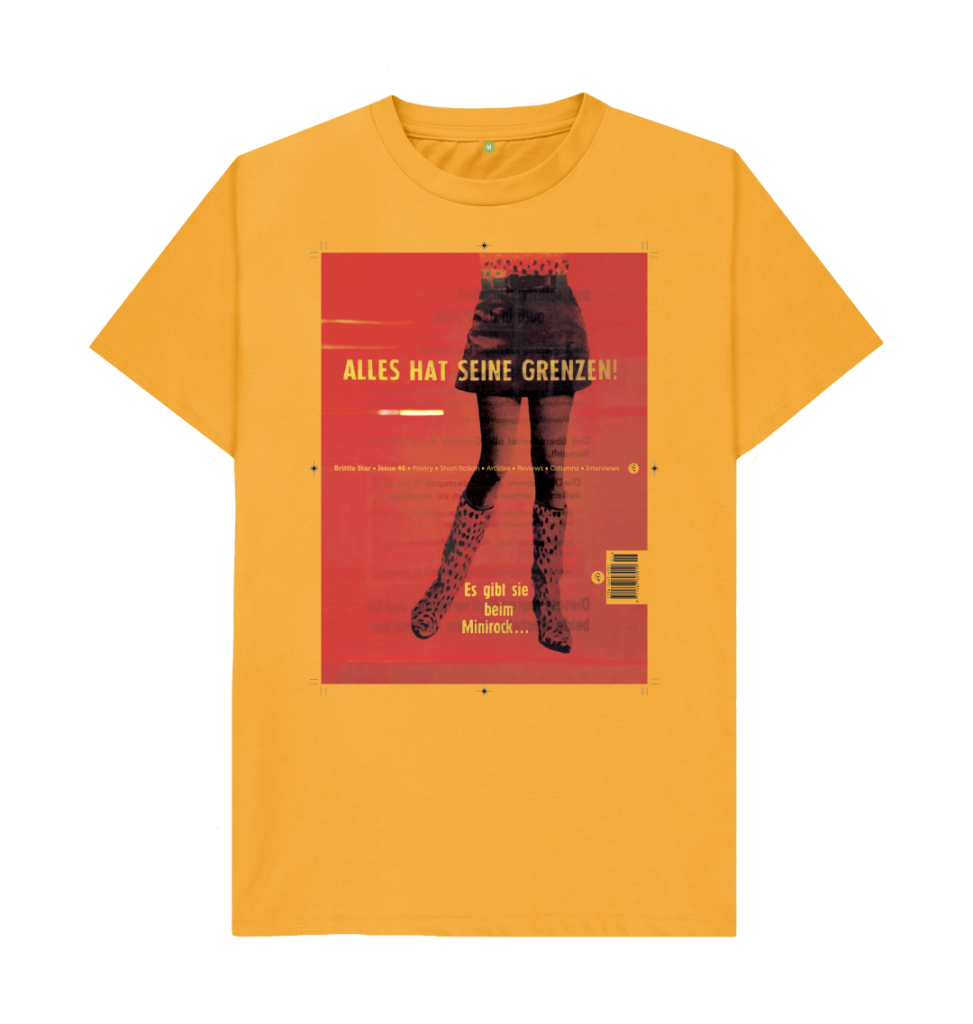 Brittle Star is a literary magazine based in the UK that publishes poetry and short fiction and champions new writers. It is celebrating 20 years of publishing this year.
WinstoneSmith produces t-shirts through TeeMill with a literary, pop-culture or political theme – its first design based on Orwell's 1984 integrates a scannable barcode (where it takes you, only you can discover!). WinstoneSmith features Brittle Star magazine's Issue 46 cover art 'Alles hat seine Grenzen' in three bold colours – Black, White and Yellow.
T&C's (there aren't many)
1. You must include a name – don't be anonymous because we won't be able to include you. But we're happy for you to use nom de plumes, pseudonyms, avatars – just something that we can chuck into our velvet hat!
2. One name per individual donation (if you buy us 3 coffees in one donation you'll only be submitted once)
3. No limits on how many times you enter/donate
4. The winner will be contacted via Ko-fi message and asked to email us directly about receiving the prize.
5. The draw will take place within two days of reaching the goal of £120. If you've bought us a coffee within those two days, you'll still be entered into the draw.
6. The decision of the hat is final. The prize is a t-shirt and is non-returnable.